WE ARE INNOVATORS
About Hadley
A ONE OF A KIND COMPANY LOCATED IN BUFFALO, NY
Dependable Expertise
---
Hadley Exhibits has been designing, managing, and fabricating exhibits for over a century, bringing knowledge beyond our years to every project. With much of the staff having 10 to 30 years or more at Hadley Exhibits, the experience and expertise runs deep in every department.
Our fabrication capabilities include expertise with virtually all materials and techniques. Although state-of-the-art technologies are used to achieve maximum efficiencies, we have always maintained our devotion to our "old world craftsmanship" and attention to detail.
Our devotion to collaboration can be found between every department and on every project. By working together and bringing our clients into the process, we ensure your vision is well understood and appreciated throughout all of Hadley Exhibits, which we are proud is shown thru the final product.
By working in multiple exhibit industries we have brought creativity and knowledge from one to the other, offering our clients fresh perspectives and experience. While this has usually been a positive we fully appreciate, with lock downs, distancing guidelines, and tighter working restrictions, we have not only worked around these to continue our work, but also been provided essential status to ensure we and you sustain and thrive moving forward.
PROJECT MANAGEMENT
---
---
Our accomplished Project Managers are some of the most experienced in the Trade Show and Museum Industries, sharing over 150 years of experience. All of our managers have experience with the permanent and temporary exhibits, which provides for fresh thinking and points of view. Our Project Managers are all located in Buffalo, NY, and available for travel for meetings, as well as to provide onsite supervision.
DESIGN
---
---
Our experienced 3D designers work with you on creating beautiful spaces to tell your story. Using a combination of sketching, 3D software, and our collaborative spirit, we work hard to reach your vision. By sharing progress along the way, we work with you to confirm the shared vision is well appreciated, as well as new potential ideas and suggestions from Hadley Exhibits will be fully explained.
MARKETING SUPPORT
---
---
Hadley Exhibits is prepared to help take your next event to the next level with exciting in booth and out-of-booth attractions, mailers, ads, and so much more. Due to our custom approach, we are always willing and able to work with existing agencies, internal departments, and any other vendors to make your vision a reality and offer the best opportunity for you to get qualified leads.
DETAILING
---
---
Our talented detailers create the building drawings from 3D designs using Solidworks 3D modeling software, in collaboration with the designer and our Shop. This allows for a high level of detail from the design stage to come through to the detailing stage, as well as additions to be made to get the function just right. Solidworks 3D modeling software also works seamlessly with our CNC Router and Water Jet machines, to ensure precise, consistent, and accurate cutting of all parts.
MECHANICAL ENGINEERING
---
---
Our intelligent staff come together to engineer interactives to both educate and engage your audience. From a free-moving shark inspired mobile, to a hand powered rocket, to a working miniature 3-lock canal system, the collaborative surroundings at Hadley Exhibits not only encourage working together, but also cause great pride in the accomplished work.
PROTOTYPING
---
---
When a truly unique project arises, prototyping will be engaged to test planned fabrication aspects. This usually incorporates the creation of the finished product to some degree, possibly on a smaller scale. This allows Hadley Exhibits to trouble-shoot potential issues with the planed production method, resolve these, and review with you how we will reach your final product on budget and on time.
GRAPHIC DESIGN
---
---
Our skillful graphic designers are well versed in the different requirements between Trade Show and Permanent Exhibitory, as well as the mediums used throughout. Whether it is working with 3D designers to finish a booth look to grab an attendee's attention, or pre-planning exhibits to make sure spacing is planned correctly, our designers are up to the task.
CARPENTRY
---
---
Our accomplished carpenters have been the backbone of our exhibit building from the beginning. The "old world craftsmanship" has always been at the heart of Hadley Exhibits, although we have strengthened that by learning about new techniques, investing in new technologies, and staying true to our roots. From production in-house, to onsite preparation and installation, our carpenters are prepared to help from start to finish.
CUSTOM METAL WORK
---
---
A free-moving shark inspired mobile measuring 12' by 8' with at least 25 hanging pieces, an enclosed loop projection screen at over 30' diameter and 8' high, and custom wing shaped signs, are just a few of the incredible things our Metal Shop staff has produced. The materials they work with, mainly steel and aluminum, have always played a part in the structure, but they can be used for so much more than just stability and we love to show you its beauty.
MODEL MAKING
---
---
Hadley Exhibits has an award-winning taxidermist and a champion miniaturist on staff, who always seem to be working on something amazing. Our model making capabilities are wide ranging, from life-like replications of plants, animals, and structures, to bringing something invented to life, such as a Hot Dog Mascot. Our collaborative atmosphere allows your model to become interactive, furthering the potential for education and engagement with your audience.
ELECTIRCAL
---
---
Our brilliant electricians work daily on incorporating electronics into exhibits to varying degrees. Each project is not only trying to highlight something distinctive, but also has specific concerns onsite – whether it needs to be able to be set up by the client, or we need to plan for odd outlet placement throughout the exhibit hall.
ACRYLIC
---
---
At Hadley Exhibits the acrylic department is not just about cases, although they are the best. Our proficient acrylic staff is able to utilize the patience and precision needed for bubble-less seams on a museum quality case, to make everything from small dynamic product mounts, to over-sized toy blocks to create outdoor signs.
FINISHING
---
---
Our accomplished finishers are quite adept at providing a finished product with an impeccable appearance. At Hadley Exhibits we have finishers specializing in the applied finishes, able to work with a wide range of materials and substrates. We also have finishers specializing in painting, from spraying in one of our two booths, to onsite work, and even hand painting when the job calls for it.
ARTIFACT MOUNTING
---
---
Being able to secure a prized artifact and show it in its best light, securely and without damage, is an art and essential part of any display case. Hadley Exhibits has been custom making our mounts for many years by hand, as well as taking advantage of new technologies. Our staff understands how significant these artifacts are for you and take great care to ensure their safety through every step of the process.
EXHIBIT PRODUCTION
---
---
Whether it be a Trade Show Exhibit, Museum Exhibit, Donor Wall, or anything else, Hadley Exhibits always ensures that everything will fit together. This can be as detailed as to include artifacts, working interactives and displays, or just a fitting of components. No matter the size of the preview, communication is always key throughout this process within multiple departments, and always creates a sense of pride for everyone who walks by.
WAREHOUSE SERVICES
---
---
Storing and maintaining exhibits is an essential part of our business. Trade Show properties make up the majority of our storage, with client and Rental properties, but we store for all of our clients. We have 85,000 square feet of our facility allocated for exhibit storage and shipping, which is all indoors. Our experienced staff ensures that each exhibit is complete and show ready before it leaves our facility for an event.
SHIPPING
---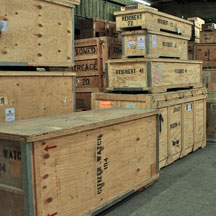 ---
At Hadley Exhibits, we not only expertly pack everything for shipping, but can also organize all shipping for our clients. Whether it be domestic or international, we have the experience, knowledge and partners to get you where you need to be. Let us put our know-how to work for your Trade Show schedule.
TRADE SHOW SERVICES
---
---
Being able to take the stress out of estimating, ordering, and over seeing Trade Show Services can be possible with a knowledgeable team. At Hadley Exhibits our Trade Show Team is well-versed in all kinds of services, working with your show's services provider, as well as 3rd party vendors to get you the right services for your needs.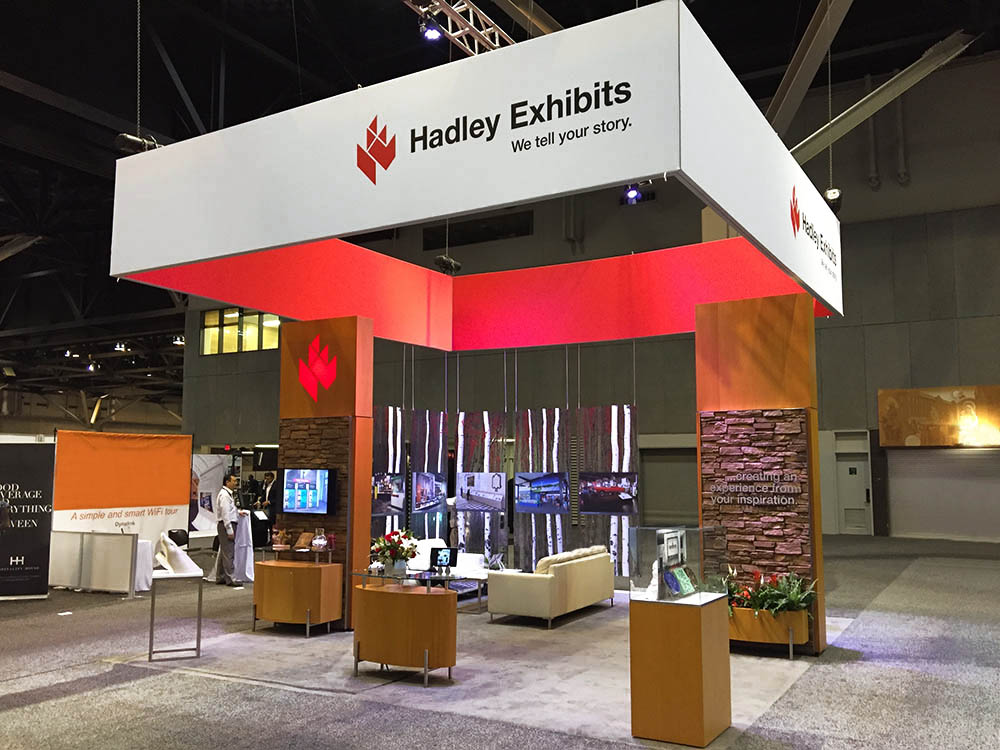 FACILITY & STAFF
Commitment
---
Hadley Exhibits is based in Buffalo, NY in our 180,000 square foot facility, housing everything from project management, to fabrication, to warehousing, to even two-story preview space. The facility though is only as amazing as the staff that fills it. Decades of experience is found within every department at Hadley Exhibits, providing for the amazing work accomplished along the way of every project.
What's Happening at Hadley